Dignitana is a Swedish medical technology company listed on Nasdaq First North Growth Market in Stockholm.
Dignitana AB is the world leader in clinically superior scalp cooling technology. The company produces The DigniCap® Cooling System, a patented medical cooling device that offers cancer patients the ability to minimize hair loss during chemotherapy. FDA cleared since 2015, DigniCap provides continuous cooling with high efficacy, safety and acceptable patient comfort. Dignitana AB headquarters are in Lund, Sweden with operations based in Dallas, Texas in the United States. Company subsidiaries are Dignitana, Inc. in the United States and Dignitana S.r.l. in Italy.
Trading Information
Short Name: DIGN
ISIN: SE0002108001
Nasdaq First North Growth Market: Dignitana
Important information about First North
Nasdaq First North Growth Market is an alternative marketplace run by the various stock exchanges included in Nasdaq. It has the same legal status as a regulated exchange. Companies on Nasdaq First North Growth Market are regulated by Nasdaq First North Growth Market's rules and not by the legal requirements that are demanded for trading on a regulated exchange. An investment in a company that is traded on Nasdaq First North Growth Market carries more risk than an investment in a company listed on a regulated exchange. All companies, whose stock is listed for trading on Nasdaq First North Growth Market have a Certified Advisor who assures that all regulations are observed. Nasdaq Stockholm AB approves applications to be included in trading on Nadaq First North Growth Market.
For more than ten years Nasdaq First North Growth Market has served as an important growth platform, enabling Nordic and international entrepreneurs to access growth capital to develop and expand their businesses. There is a well-functioning ecosystem surrounding Nasdaq First North Growth Market, with advisers facilitating a smooth listing process and a range of investors supporting the market, from retail investors to institutional capital.
Certified Adviser
The company has appointed Redeye AB as Certified Adviser.
Redeye AB
Mäster Samuelsgatan 42, 10 tr, Box 7141, 103 87 Stockholm, Sweden
+46 8 121 576 90
certifiedadviser@redeye.se
The total number of outstanding shares is 55 059 155 and earnings per share is – 0,17 SEK. The share has been listed on Nasdaq First North Growth Market in Stockholm since 30 November 2011 after having been listed at Spotlight Market in Stockholm since June 2009. It is traded under the DIGN ticker.
At the Extraordinary General Shareholders meeting in February 2020 it was resolved to issue and transfer warrants to key persons in Dignitana Inc. in accordance with the proposal by the Board of Directors. If all the warrants outstanding under the 2017/2020 program would be converted in full the total dilution in number of shares and votes is approximately 4,5 percent. Warrants are given free of charge and costs will be incurred in second half of 2020.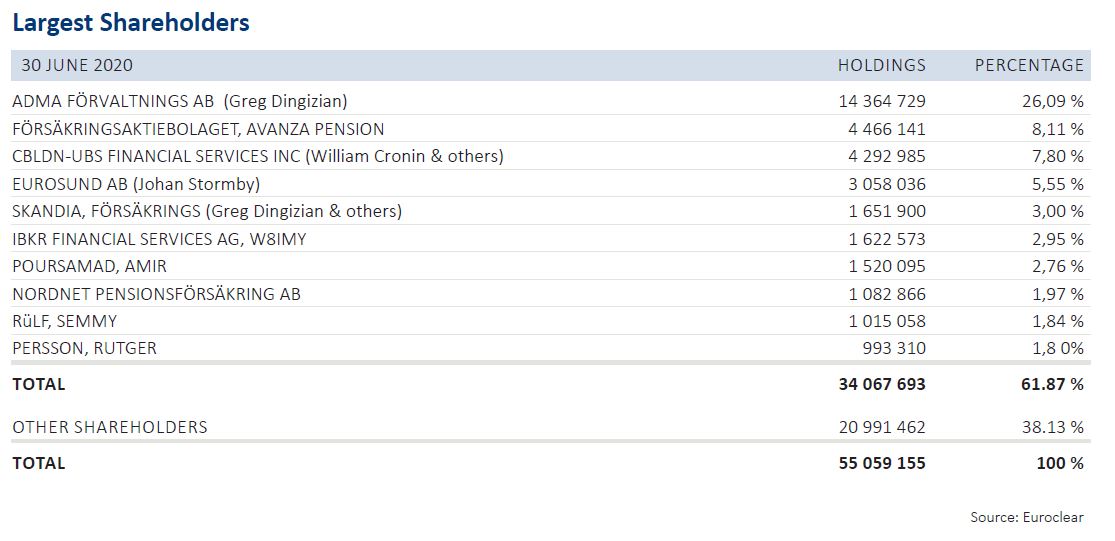 Redeye Update
Redeye Initiation of Coverage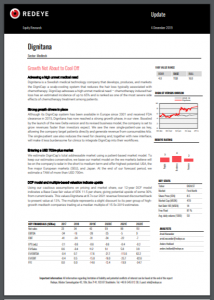 Please note that the content of this website is not intended as professional medical or healthcare advice and should not be construed as a substitute for professional healthcare advice, or services from a qualified professional healthcare provider familiar with your unique situation. This content is intended solely as a general product and corporate information.
OPERATIONS
Dignitana
10925 Estate Lane, Suite 185
Dallas, TX 75238
+1 469-917-5555
HEADQUARTERS
Dignitana AB
Traktorgränden 3
226 60 Lund, Sweden
+46 46 16 30 90
HEADQUARTERS
Dignitana S.r.l.
Corso di Porta Nuova, 46
20121 Milan, Italy